Welcome to February, Everyone!
It looks like Stampin' Up! is going to be teasing us all about what's going to be in their 2022-23 Annual Catalog. That catalog is not coming our way until May. But Stampin' Up! has already released one of the new products that will be included in it – a collection of Natural Tone Stampin' Blends that we can use to create just about any skin color that you might need. This is especially great for all the wonderful Stampin' Up! Stamp Sets that feature people in them.  The stamp set that immediately comes to my mind is the new In The Moment Stamp Set.
Five New Stampin' Blends Combo Packs
From Deep to Medium to Light, with some with a little more red pigment and others with more yellow, there are dozens of skin colors that Stampin' Blends can create – even more when you use the Color Lifter  with them! While they are in sets of 2 Blends, these are not light and dark shades of the same basic color. And each marker is named with a number, and not with a color name. The sets are named Deep, Medium Deep, Medium, Medium Light, and Light. The picture of the right shows the sets in that order.
There's More to All Together – While Supplies Last!
The other products in the All Together Collection really help highlight what we can do with these colors. My favorite part of this is the hand designs. There are hand designs in both the Here Together Bundle and the All Together Designer Series Paper. These and features in the collection help create cards and other paper crafting projects that reflect the people you know and love. What a great way to illustrate coming together in friendship.
I love the paper. Not only can you color those hands with the new Stampin' Blends so many different ways, it's so much fun to use monochrome paper to add pops of color. This paper is going to go so well with lots of stamp sets that you already have.
And There's More!
I already have in mind two more articles about the new Natural Tone Stampin' Blends, and I'll be posting them later this week. I'm really having fun with them!
If you'd like to read more detail about this promotion, just click here for Stampin' Up!'s official flyer.
Meanwhile, you might want to watch the video that Stampin' Up! put together that includes some lovely samples that their staff made with these products. Great ideas!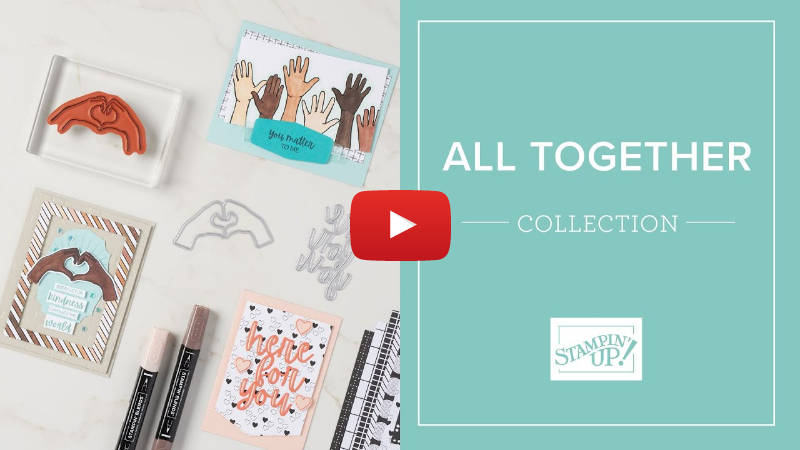 Happy Stamping!